Help Young People be and become their best selves.
Young people do best when they experience strong, positive relationships in all parts of their lives.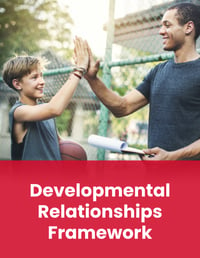 A great deal of research from numerous scholars in many different settings offer evidence that support this. Search Institute has identified five elements—expressed in 20 specific actions—that make relationships powerful in young people's lives. We refer to this as the developmental relationships framework.
Research has found that young people who experience strong developmental relationships across different parts of their lives are more likely to show signs of positive development in many areas, including:
Increased academic motivation;
Increased social-emotional growth and learning;
Increased sense of personal responsibility; and
Reduced engagement in a variety of high-risk behaviors.
Complete the form to download the Framework today! (Download is available in English and Spanish)
Download the Developmental Relationships Framework